NOTE: this game has been discontinued. Find similar games here: Fashion.
Barbie Fairytopia: Mermaidia is a great game by Mattel that brings the magic to your fingertips. You will spend countless hours of fun as you explore the underwater world in this great game. If you loved the movie you are certainly going to love playing this game. Explore the world, solve puzzles and find beautiful treasures in this exciting and interactive game.
You will start out by using the pretty decorative sticker arrangements to light up Fairytopia. Choose from cute starfish and pretty underwater plants to make the underworld full of light and beauty. There's terrible news Prince Nulu of Mermaidia has been captured and they need your help to rescue him.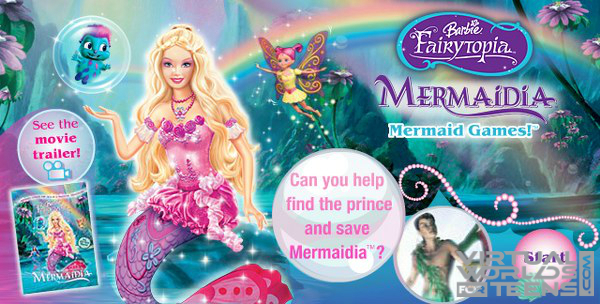 The Merfairies are in the dark and need your help to make it bright so they can see as they head out on an adventure to save Prince Nulu and Mermaidia. You can help them to light the way and make Crystal Cove look beautiful!
Nori is Prince Nulu's best friend and she needs your help to save him. Elina wants to come along but she needs your help to turn her into a mermaid. Using the beautiful stickers you will decorate her merbody to make her a beautiful mermaid! Be creative, use your special creative skills to make Elina the most beautiful mermaid in Fairytopia. After you make her look her best you and Nori are off to save Prince Nulu and bring him back to safety. You and Nori together can make that happen.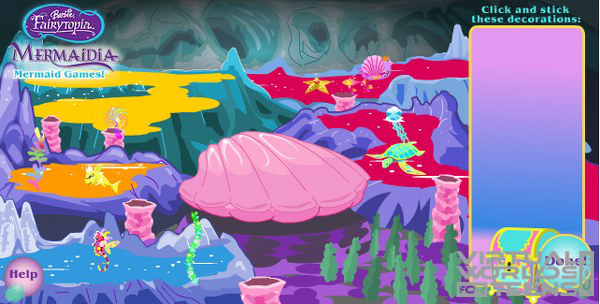 Once you rescue Prince Nulu it is up to you to find the magical immunity to help save Mermaidia. If you fail to do so Elina won't be able to return to her fairy state. But, you can do it! Click on the magical bubbles until you find the immunity berry and can return Mermaidia to its original state!
Once you have done this you have conquered the game and saved the underwater world. Barbie Fairytopia: Mermaidia is a game that will keep the kids coming back for more and playing to their hearts content. If you haven't already checked it out then you are missing out on a wonderful game that is full of surprises.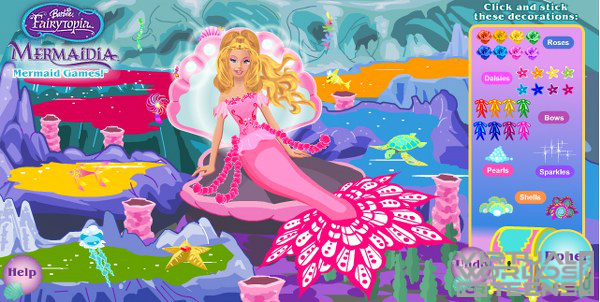 For more screenshots, click here.
You will love all of the pretty decorative stickers and the fun doesn't end there. What kid doesn't want to be a hero? Be the hero in a game that takes you on a wonderful adventure throughout a fairytale enchanted adventure.
Barbie Fairytopia: Mermaidia is sure to keep the kids busy for hours and hours. The graphics are beautiful and the game play is fairly easy and they will catch on very quickly. There's no limit to the fun that you can have with this very exciting game. Put your creative skills to work as you get ready to save the Prince from captive and save the amazing world of Mermaidia. You have the help these Merpeople need to get their lives back to its original standing, and you have the power to take this magic to a whole new level.
Watch more videos on their YouTube channel: Barbie Fairytopia: Mermaidia on YouTube.
Barbie Fairytopia: Mermaidia is free to play.
More Games Like Barbie Fairytopia: Mermaidia
NOTE: this game has been discontinued. Find similar games here: Fashion.
Sooo, did you think this game looks cool? If yes, Like!