NOTE: this game has been discontinued. Find similar games here: Simulations.
Baby Valley is a free online game that simulates what it's like to raise a baby. Your goal is to care for your virtual baby until they turn 3 and head off to school.
There are 3 different tabs that take you to different areas of the game:
Taking care of my baby: It's here where you take care of such things as health, cleanliness, and nutrition so that your baby will make it to school in good health.
Makeover my baby: This is where you can make your baby as cute as you want. You can give them a new haircut, or a cute little outfit that everyone is sure to love.
Baby Valley Community: Connect with others in the community by creating a personal page where you can show off your cute little baby.
There are also books available in the library that can help you.
The books will show you how to properly feed your baby. You must also make sure that your baby is clean and cared for, which means regular washing and changes. Your baby will also need to sleep well, which means choosing a bed that is adequately sized. Keep your baby happy by going for walks and making sure that their clothes are clean and fit well.
How to Play:
If you aren't sure what to do, you'll be pleased to know that a stork will arrive every half hour to tell you what it takes to make your baby happy. Pay attention to all the details provided by the stork. For example, running out of milk might mean a drop in the baby's nutrition, which will not start to climb for 30 minutes. The stork will come and review what is happening with your baby. If the stork doesn't leave a message, you can assume that all is well with your baby.
All you need to do is buy the items your baby needs, as bathing, feeding, and changing are all done automatically. You need to make sure to sterilize all the bottles daily to prevent your baby from becoming sick. You also need to make sure that the bath setting for the baby is on 7, as that will ensure that he/she will get a bath every day.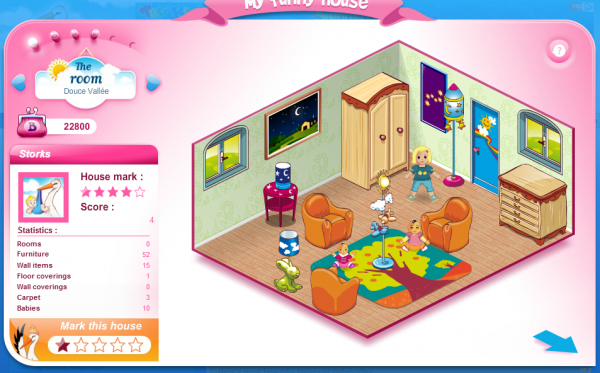 For more screenshots, click here.
Clicking on your baby's head will reveal a menu that allows you to do a number of things, including putting them to bed. Make sure not to keep putting the baby in and out of bed constantly. Use the same method when it comes to the stroller, as this will ensure that they are happy.
In gameplay, 1 day in real time is equal to 1 week in the game. For example, if you play for 3 days, your baby will actually be 21 days old in the game. The only time that 1 day in real life equals 1 day in the game is with such things as diapers and food consumption.
Baby Valley is free to play.
NOTE: this game has been discontinued. Find similar games here: Simulations.
Sooo, did you think this game looks cool? If yes, Like!