NOTE: this game has been discontinued. Find similar games here: Simulations.
Babysitting is fun, but Babydow is better. This virtual game lets you raise your own kid from birth to three, and gives you all of the fun of a baby without actually having a baby!
Throughout the game, you work on getting "growths," which help you advance throughout the game and let you participate in activities. And you do this by taking care of and teaching your baby. To start, you choose his or her gender, name, and roughly what they look like. Then, you help him or her to reach various milestones so you can get into more and more fun activities. From first smile (500 points) to first kiss (4500 points), and everything in between, you get to see what it's like to raise a baby, at least in virtual world!
Teach the baby how to talk with books and other friends, encourage curiosity by playing in the sandbox and dozens of other games, and help him or her learn to walk with various toys and activities. You also have to keep the baby fed and clean, and you might be docked points for failing to take care of the baby like you're supposed to.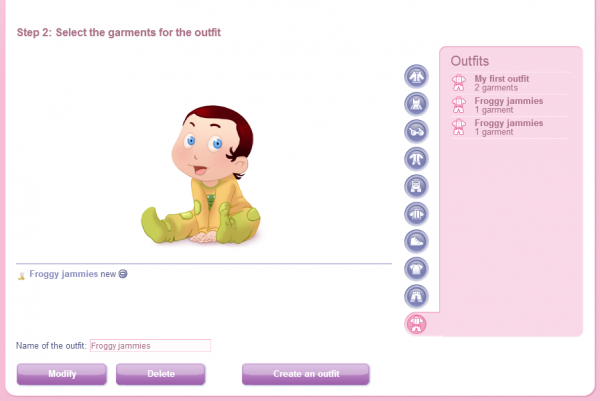 For more screenshots, click here.
A good way to kill a study hour, and to see if that guy you like is any good with babies without having him sneak over while you're real-life sitting, Baby Dow is interesting, interactive, and fun.
Can't get enough of babies? Then you have to check out Babysitting and Baby Boom.
Baby Dow is free to play.
NOTE: this game has been discontinued. Find similar games here: Simulations.
Sooo, did you think this game looks cool? If yes, Like!