If you are a fan of Dance Dance Revolution then you will love Audition, as the gameplay is very similar. To play this game you will use the arrow keys to follow the arrows being shown on the screen. You will love this game because it is pre-loaded with all of today's greatest hits, so you will find a great song list and various game modes that will keep you busy for hours!
Audition doesn't have character classes because the nature of the game, rather this game allows you to battle playing songs to earn points that you can use to buy accessories or clothing for your character to wear. The only drawback regarding Audition's store is that you must use real cash to buy the most of the store's best items. However, you will love all the game modes and great songs that you will have fun playing for hours at a time.
Synopsis
In Audition you want to transform into a dancer with stupendous moves that will amaze your fans. In this game you will find the graphics to be appealing and the game play features to be fun. One of the most fun things to do in Audition is to compete against your friends in the different game modes to be crowned the most talented dancer. To play you simply press the spacebar and directional arrows on your keyboard while you are begin entertained by the dance steps and other choreographic moves.
Gameplay
During gameplay there are rooms that you can join or create. Regardless what kind of room you are in, the gameplay is based around following the arrows being shown on the screen by pressing the control key or spacebar and the arrow keys.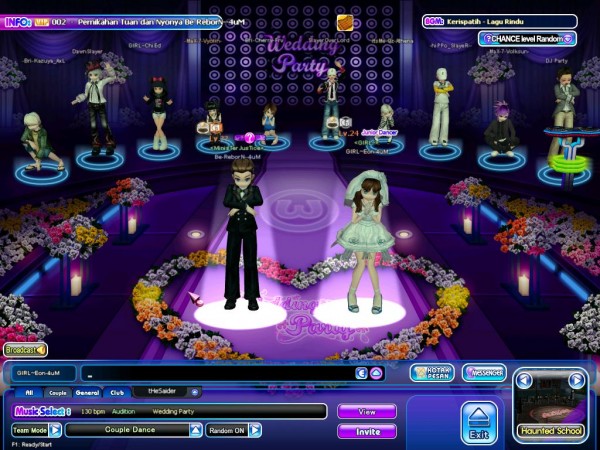 Fashion Shop
Audition has its very own online merchandise store where you can buy items for use with modifying the look of your character. In the store you can purchase thousands of items like pants, shirts, shoes, hairstyles, faces, and other random items. The game also features a reward system in the game that is called Beats in the American version of the game, or Dens in other versions. In the games where you compete against others, you are given a Den or Beat as a reward when the song is over. However, you only get a reward if your rank is higher than the number of bars you missed. You can then take the rewards and redeem them for clothes and accessories in the Fashion Shop.
Game Modes
The Audition game modes are as follows:
Practice Mode – Use practice mode to learn basic dance steps alone or with your friends.
Normal Individual – This mode allows you to battle between one and six players at one time. During each match you will compete in four different levels: freestyle, freestyle 2, normal, and your finishing move.
Choreography – In this mode the goal is to dance concurrently with your friends and other competitors.
Freestyle Battle – Each round of this mode will contain random dance moves. If you are playing with a lot of people this is a good mode because it can be played 2 against 2 or 3 against 3. Each person takes turns competing against each other.
Sync-8 – This mode allows you to move in 8 different ways, rather than the usual four ways.
NPC Battle Mode – You must have 5 players to enter this challenge
For more screenshots, click here.
Game Features
More than 20 game modes to choose from
Dress your character up using thousands of outfits, shoes, hairstyles, and other fashion accessories. You can use these items to make your character the hottest one on the dance floor.
The game is constantly updated which means that new clothing, dance steps, music, and other content is added every few days.
Remain connected to both new and old friends from across the globe with Audition's built-in instant messenger system.
Watch more videos on their YouTube channel: Audition on YouTube.
Audition is free to play.
Sooo, did you think this game looks cool? If yes, Like!