NOTE: this game has been discontinued. Find similar games here: Simulations.
Atlantis: Mermaid Town is an exciting new game from Break Media Shanghai Studio. The game, which is available on Facebook, places you as the mermaid protagonist who has been given the great task of rebuilding a mermaid town in the mythical world of Atlantis.
Like other types of building games, Atlantis: Mermaid Town gives you free reign to design your very own mermaid world. You can build many different types of buildings and even place decorative items, like statues, lamps, and other things that will help beautify your underwater town. The buildings include typical city buildings like farms for harvesting crops and plants–and more fun and unique buildings, like a Fish stick Booth and a Sushi Bar.
You will need to collect certain types of items to create certain types of buildings, such as certain gems and rocks; you will also need to interact with the NPC (Non-Player Character) characters in town in order to complete certain types of transactions in your city.
The gameplay in Atlantis: Mermaid Town is simple but effective. Like other games built on a similar premise, you are able to place buildings, change landscapes, delete or remove certain items from your town—and so on—in order to really make it unique and customizable.
Perhaps the most notable thing about Atlantis: Mermaid Town is its beautiful graphics. Many building games overlook the importance of graphics in favor of adding dozens of buildings for you to place, but Atlantis: Mermaid Town has spared no energy on creating a colorful, beautiful and truly wondrous undersea world for you to build your very own mermaid town in. Even small items, such as the sea warrior statues to place around town or the lamps made from pearls, add a touch of mermaid-delight to the experience.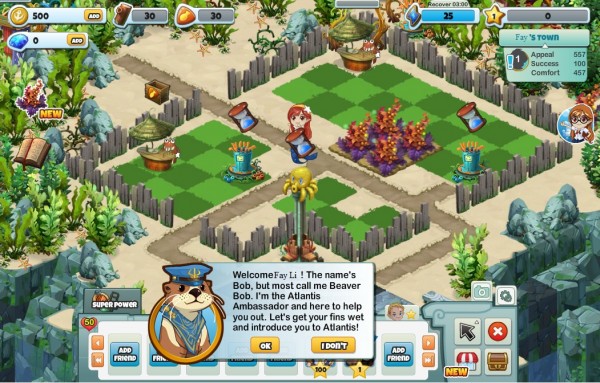 For more screenshots, click here.
If you are looking for a town building game with a really unique twist, then why not check out Atlantis: Mermaid Town? With beautiful graphics, simple gameplay, and easy-to-understand game mechanics, it is truly a game that you can play for hours.
Atlantis: Mermaid Town is free to play.
More Games Like Atlantis: Mermaid Town
NOTE: this game has been discontinued. Find similar games here: Simulations.
Sooo, did you think this game looks cool? If yes, Like!