Animal Crossing: Pocket Camp is the newest AC game to come out, this time for mobile devices. While it is not a full AC game, it does offer some of the same experiences and gameplay that has made the franchise massively popular. Fishing, bug catching, decorating, paying off loans, and, of course, meeting animals.
It is a new approach to the entire franchise, built with mobile gaming in mind. It incorporates common mobile game features like micro transactions, events, and socialization into the distinct AC flavor.
At its core, it remains Animal Crossing. You can play as a human character, meet up with animals, earn Bells, decorate, dress up, and have a little life in this cute world.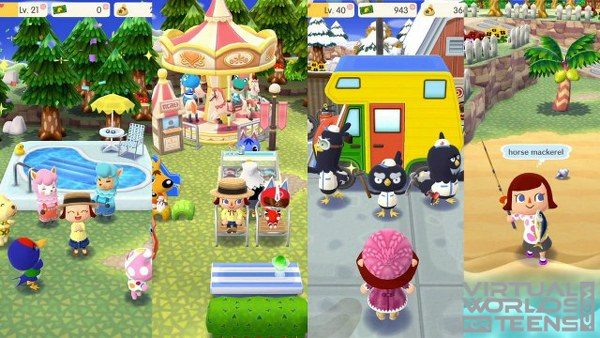 You can customize and personalize your character, too, as is common in the newest Animal Crossing games. Choose the gender, hair, eyes, skin, and overall appearance, as well as the name, and head out into the world. You cannot name your campsite, however.
That campsite will come in one of a few standard setups, like cool or cute. The one you choose will determine your starting animal and furniture. Do not fret, though. You can always add more furniture and change out the animals as you befriend them.
To change out furniture, either make it using collectable resources or purchase it from Timmy at the marketplace, where you can also buy clothing. The shops and stock change every few hours so check regularly.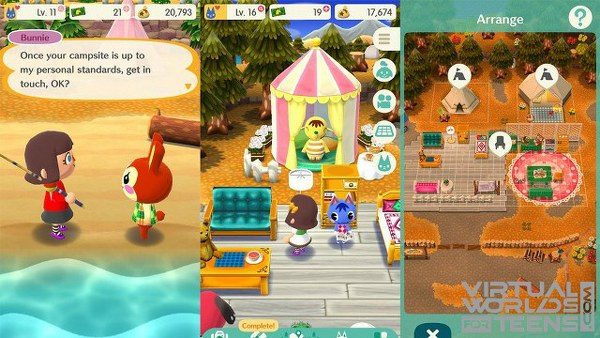 Making furniture means going through Cyrus, who will take resources and Bells in exchange for custom furniture. Custom furniture is only available through Cyrus. Most pieces are part of collections that certain animals like, too, so you will want to make furniture regularly if you want to bring over your favorite animals.
Befriending animals is simple. Talk to them and do their requests. You can chat once and do three requests, with points and rewards available for all of them. Every action awards points towards friendship, leveling it up. At certain levels, you receive gifts and new custom furniture options.
When you complete a request, you will receive materials. Wood, metal, cotton, paper, and preserves are the five materials that will make anything. There are also bottles of cool, cute, natural, sporty, and rustic that are for special items and amenities, like tents and other special builds.
So long as you build the items the pet wants and achieve the necessary level, you can invite them to your campsite. Marshal, Jay, Apollo, Bluebear, Apple, Kid Cat, and more are here – all awaiting you and your friendship.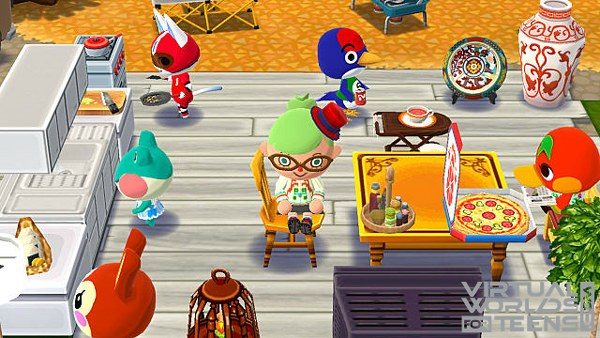 For more screenshots, click here.
There is a garden here, too. Plant flowers, cross pollinate, and get rare colors to plant. When you collect enough, you can trade them in for unique items.
Animal Crossing: Pocket Camp is very much a mobile game. Reliance on social features, micro transactions, and regular events and updates make it obvious. Even so, it does not force you to do any of it. You do not have to spent anything on this game thanks to how generous the rewards are.
It is a smaller version of Animal Crossing, but it is wonderful. It perfectly encapsulates everything great about Animal Crossing and brings it down to a mobile size.
Watch more videos on their YouTube channel: Animal Crossing: Pocket Camp on YouTube.
Animal Crossing: Pocket Camp is free to play.
Sooo, did you think this game looks cool? If yes, Like!