NOTE: this game has been discontinued. Find similar games here: Multiplayer.
Vexa, Queen of the Nix, wants to destroy Spring Bay. Currently, Spring Bay is covered in peaceful animal creatures called Zings. They are happy, minding their own business, but Vexa is not happy with any of it. She sends out her minions, Nix, to destroy everything. They are working to eat away at grass and trees and anything else they can get. You are going to destroy them while also completing a variety of quests and activities. Amazing World offers a lot to do for anyone, regardless of age. It is a non-violent game, free of vulgar language and actions, that all types will love.
When you start out, you are going to choose your character. Become the hero of the Zings with your own Zing. It is not going to remain boring and simple, though. As you progress through the game, you are going to find items to wear that will add to your character's style. Have fun with it.
Since this is an MMO, you can compare your look to others and get some ideas. You can also decorate your home and yard to match your style, to make it fit you, and to make it stand out. Have fun with design here.
Along with stomping out the Nix, which is the extent of the combat, you are going to have activities available. Treasure hunting, character quests, and fishing are a few options. These are exciting, challenging, and full of entertainment. Whether you are going solo or playing with a friend, you will love the time spent in this world. The stories leave you hooked while the action and activities keep you pushing forward. Since it is entirely kid friendly, anyone can jump into the massive world of Amazing World and experience it for themselves. Do it all and more when here.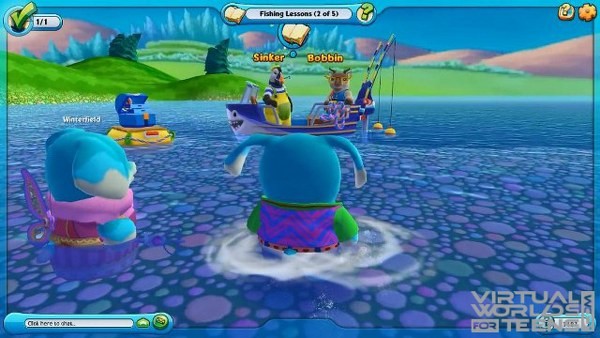 Playing with or competing against, the multiplayer aspect of Amazing World is truly amazing. You can start making friends, playing games with random people, exploring in groups, and taking on adventures together.
The best part about all of this is the fact that it is completely kid friendly. There is no extreme violence, no bad language. It is heavily moderated by an excellent team working to make sure that it is entertaining for everyone, regardless of age. This creates a safe, inviting environment that the whole family can love. It does this without sacrificing quality in any way, too.
For more screenshots, click here.
Anyone can start playing. Signing up and getting into this world is a simple task. It is browser based, too, so you do not have to download any client. Accessibility and usability of this game are great, which makes it even better for all types.
Whether you are 6 or 60, you should have no trouble getting your account set up and getting into this world. Once playing, it continues to make the process of starting up as easy as possible. You can learn the ropes, see the story, and find yourself having fun in very little time.
Watch more videos on their YouTube channel: Amazing World on YouTube.
NOTE: this game has been discontinued. Find similar games here: Multiplayer.
Sooo, did you think this game looks cool? If yes, Like!