Here is a list of games that are similar to SingStar.
SingOn
For those who love singing along to their favorite songs. This offers you an easy way to understand how to play than some genres of this type. It gives you the means to gather the family or just friends and share a night of clean entertainment. If you do not have your own music, not to worry, you can download it.
Karaoke Revolution
It has a feature that measures the pitch of your voice and when it matches up with the original songs pitch you will earn points. You can use this to practice up for your personal use or share it with friends and the family too. It gives you options for the level of play, and the harder the level the harder to earn points.
SingParty
You can go about playing this karaoke game in two different ways, either way consist of using a gamepad. The first way would be the sing mode. It offers features for you and your friends that will enhance your game. It also gives you a play list that you can modify.
Let's Sing
The more labels you sign and the more songs you can pass will earn you much more money. Keep in mind that the measuring function of the game is not just measuring how well your pitch matches up, but also, if you are holding your pitch for the same length of time as the original lyrics are.
UltraStar Deluxe
You will love this karaoke, as it not only puts the lyrics directly on your computer screen giving a better view, but it also puts the notes on the screen as well. Which means that anyone interested can take the time and learn to read music too. Karaoke is very entertaining and so much fun, so share the fun with your family and/or friends.
SingStar Dance
Whether or not you know any of the songs is not what is important, you can read the lyrics. What is important is that you pour your heart into it and sing into the microphone. It gets more interesting; you will be able to sing beside your favorites super stars if you would like.
Singing Superstar
Welcome, now that you are interested there are a few things you need to know. You will never have to purchase anything else in order to play and it will only take you a few moments to get it set-up and ready to go. It is fun and exciting and you will enjoy it tremendously.
Big Time Rush
The main focus and appeal here was based on the BTR boys, those from the show you grew to love so much, along with the band you also loved. Remember how much you liked their style of music? Well now, you can virtually dance and sing right along with them.
Michael Jackson: The Experience
While singing and dancing on stage with Michael, bringing his most popular songs back to life you will also progressing to different levels in this adventure. The dance moves are going to get harder and harder with each level you move up. Not only the dancing will get tougher, but so will the songs.
The Black Eyed Peas Experience
Here you will be given the opportunity to pick-up on new routings and experience what karaoke is all about. With up to four players allowed at a time you will be able to invite friends over to join in on the fun. Everyone will have the chance to pick out their favorite songs as there are 25 different tracks to be offered.
Lego Rock Band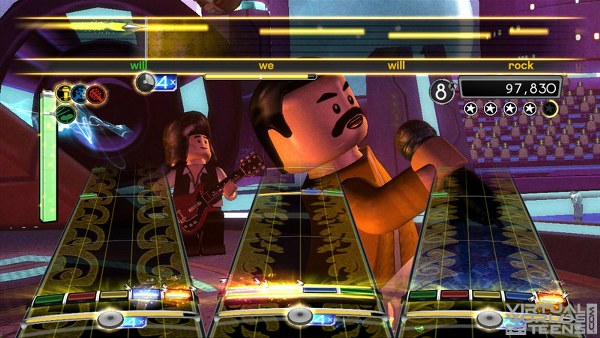 It lets you customize the avatars you chose to use and the style your wanting to have. Next, you will experience the life that a rock star leads. You also get to customize other things, such as your band, managers, and roadies. Lots of activities here to keep you hoping for a long time, with challenges, and trying to progress in leveling up.
Rock Band 3
The main point of this game of karaoke is to get to play instruments. You can finally experience what you have wanted for a long time, and that is to play instruments and sing. You will get the hang of it all soon enough, after you do you are going to want to get with some friends or the family, maybe even both and share.
For more games like SingStar, check out the Singing Games category.