Here is a list that features bunny games.
Peter Rabbit
Play all of the Peter Rabbit games that you want to play here. If you loved him growing up, and if you want to spend your time finding and helping him, this is the place to go. You can have fun with Peter and help with everything that he needs, and all while bringing a bit of excitement to your day.
Lugaru
A game of conspiracies, action, and bunny – human crossbreeds, Lugaru certainly does not disappoint. You are on a journey to learn more about what was responsible for slaughtering your home, which means taking a journey and learning some hard truths. It is tough, but you have the skills to deal with it.
Rabbit's Adventure

Do not let the tractor catch up to you in Rabbit's Adventure. You have to work and run as hard as you can to stay ahead. Avoid vehicles and other obstacles by moving to the side, jumping, or going down as quickly as you can. Be fast or else you might fall victim to the tractor.
Crazy Rabbit
As the title suggests, this is all about a Crazy Rabbit. You play as Robin, who is always getting into trouble. This time around? He is running from the meanest rabbit because he stole his carrots. Use what you can find to defend yourself and move out as quickly as your legs can take you.
Rabbit Save the World
Get the radishes to the rabbit in Rabbit Save the World. Take on challenges, mow, and fill this bunny's stomach up. It takes skill to do all of this, though, so do not think that it is going to be simple. You have to work hard and you have to stay dedicated to win here.
Rainbow Rabbit Adventure 2
Go on the ultimate adventure in Rainbow Rabbit Adventures 2. It is a journey on your own this time, and you have to be prepared for what is ahead. If you played the original game, this is something that you are going to enjoy and that is going to keep your love of the original alive.
Mushbits 2
Everything is focused on color in Mushbits 2. You have to use these colors to develop a strategy and to get the rabbits to their cupcakes. It takes effort and time to get it all right, but it is worth it once the bunnies have their cupcakes. Do this and keep doing this to make everyone happy.
Madpet Jumper
Madpet Jumper is rather easy to understand. You are playing as Madpet, who is attempting to gather all of the carrots. You are going to help by collecting the carrots and avoiding traps, which means making all of the right calls and making the right moves to get yourself to victory.
Rabbit Tycoon
Become a tycoon in Rabbit Tycoon. Breed the rabbits, care for them, watch out for dangers such as diseases and wild animals, and sell them. Make sure that you are quick and that you play well, though, because the game will end if you run out of rabbits, forcing you to restart.
Bunny Cannon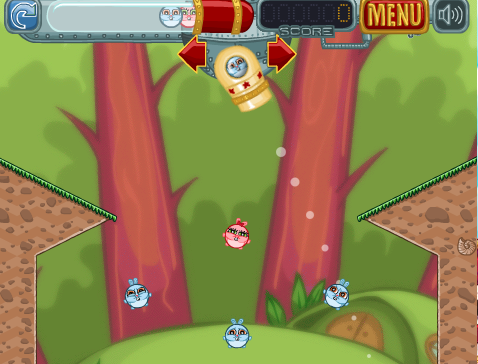 You are shooting bunnies out of a cannon in Bunny Cannon. No worries, though, because they are all safe and having fun. You are shooting them at bunnies of the opposite color to get them to multiply and to get as many bunnies in the basket as you can get.
Imbossible
Imbossible may feel impossible, but it is actually rather fun. If you love a good challenge, this is something to pick up. You have a new difficult task awaiting you every time that you succeed, but it is all worth it in the end if you are able to make it through successfully.
For more pet games, check out our Pet Worlds category.